PATHWAY AUDITS
A Pathway Audit is a highly focused and high value survey that identifies your organisation's capability in critical business areas. Pathway Audits are an essential diagnostic tool that cover key areas such as Mergers & Acquisitions, I.S. Strategy, Lean Thinking, Outsourcing and many more. You can select the audit you wish to complete from the list on this page.
Pathway Audits identify your company's present state of implementation or readiness and focus on those factors that enable progress and those that present barriers. All of the Audits are on-line surveys completed by executives, senior managers and their teams.
The survey is on-line it saves time and money and the informed reports are generated very quickly. Each survey takes less than 30 minutes to fill in, yet uncovers many hidden issues that you will need to be aware of and address for a successful outcome.
Pathway Audits have been designed and developed by authors who are specialists in their field. Audit reports can be sent to the commissioning organisation whilst others to expert consultants who will help to interpret the results with reference to your particular organisation.
All our Pathway Audits are designed to reveal significant and powerful information that consultants or organisations can act on, such information will also stimulate invaluable discussion and debate. If you are the CEO, a Board Director or head of a particular function , the subjects that Pathway Audits cover will at some time be at the forefront of your mind.
 These Pathways are designed to help you start or continue your journey in important business areas so you achieve your vision efficiently and effectively. For further information on the achievement of your business benefits from using our audits see our video
Pathway Audits Feed Back Report
Example of the Introduction to a Feedback Report and Radar Graph for the Change and Transformation Pathway Audit . Reports are normally between 12 and 15 pages in length.
Detailed report for xxx Company
Change and Transformation' Pathway Audit™
Thank you for using the Change and Transformation Pathway Audit™. This assesses your core capability to deliver a change or transformation programme, in other words a piece of work that significantly alters business strategy, processes, or culture and which has a major impact on working practices and business performance.
This audit and analysis covers ten key core areas of your current capability from initial strategic alignment of the programme to the ultimate embedding of the changes into the business.
The audit has been completed by [six out of ten] key members of the nominated team. The audit is a survey of 100 essential statements, equally split into the ten key areas. It has utilised the 'collective wisdom' of the participating team by offering them the opportunity to independently respond to these essential statements. This has been followed by a collective analysis of the responses, shown in the next section.
Low scores are 0%-29%
Medium scores are 30%-59%
High scores are 60%-100%
Radar Graph
Change and Transformation Audit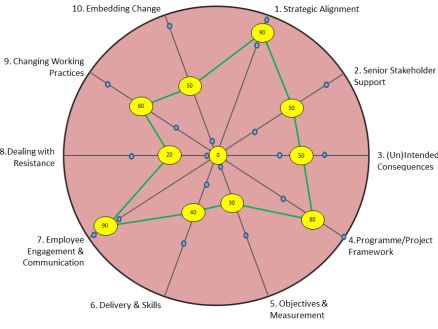 BE in the loop
Get in touch